The weather has recently done a temperature step – going from about 22ish most days to 14ish in a matter of 24 hours. This is particularly good because I want to pick up a couple of blankets I've been working on and frankly you can't knit blankets in the summer (or at least I can't. Too Hot.) This has also coincided with a slackening off of work, to my joy. When I want to knit in the evenings but have to spend them answering emails and catching up on the things I didn't get done during the day (because I was answering emails) then the pleasure of just sitting in front of Brooklyn 99 with a sock can't be overstated.
I've just finished a pair that are a leaving present for a friend. These are from Opal's Hundertwasser range. I'd never heard of Hundertwasser before – he was an Austrian-born architect and artist who worked in New Zealand and was also an environmental activist (very much in my wheelhouse these days) – this is his Rainy Day on the Regentag: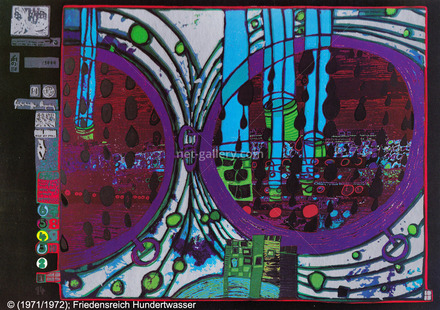 And these are the socks thereof:
Which I think is a pretty good interpretation of his picture. And the current pair on the needles are for Eldest Daughter, who is very much about rainbows and unicorns at the moment. Not sure how Eldest Son will feel about them when she grows out of them and he inherits them in about half a year (knitting socks for children is very much a keep'em coming exercise), but she's going to love them. Yarn is West Yorkshire Spinners' Signature 4ply in Rum Paradise
I also bought a new ball when I was in York a couple of weeks ago (because it's SO RUDE to browse a yarn store in a new city without buying anything…) This is King Cole Zig-Zag, which I haven't knitted with before, in Holly Berry – looks like a nice Christmassy colourway. These are going to be for a friend who has pretty big feet (as in, a size I didn't actually know existed) so I'm not sure that one ball is going to cut it, but I'll see.